Here is a list of basic tools that any artist or vendor should bring with them when participating in an art event. Be sure to contact the event organization or visit their website for information on rules and guidelines prior to an event. Click on the product image for some of the best deals online.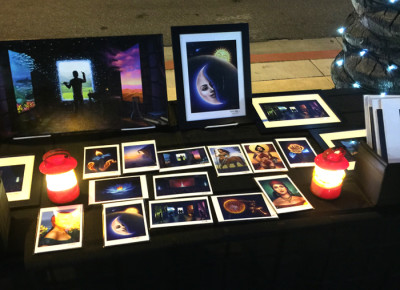 1) Table:
A portable folding table works best for easier transportation. The amount and sizes vary depending on the event.
2) Chairs:
Folding chairs work best because they collapse and make it easier to carry.
3) Table cloths:
Can help decorate your table and make it look more presentable.
4) Stands, Easels, Grids:
Floor stands, table stands, and easels can help prop up your art and attract more customers from a distance. They come in different sizes and can be arranged in different ways.
5) Extension Chords and Multi-plugs:
Useful for bringing power to your table when electricity is available. Good for lamps, monitors, phones, ipads, music, etc.
6) Lights and Lamps:
Useful for lighting up your table in dark areas or night events. Some require electricity but others only need batteries.
7) Contact Info:
Information for people to take with them so they can contact you later. Business cards, flyers, brochures, or mailing lists can help.
8) Card Reader:
A debit or credit card reader that you can use with your phone or laptop to receive payments. Companies like Square.com or Paypal.com offer their own card reader. There is a good number of people who only use their debit or credit card for purchases.
9) Canopy (When allowed):
Useful for outdoor events or to help give your booth a store atmosphere.